INCOME NOW, MORE INCOME LATER
The ability to generate income from your investments is likely a determining factor in whether you achieve your goals. We build customized investment portfolios that draw upon traditional and creative approaches to help generate the income you need now and later.
Investment Services
Our Approach
WE DON'T TELL YOU TO TRUST US - WE EARN IT
We maintain a "client first" perspective in everything we do. From investment management to financial planning, we offer personalized advice tailored to your objectives and needs.
YOUR INTERESTS FIRST
We don't earn commissions or hidden fees. The only compensation we receive comes from our clients directly. Period.

PEACE OF MIND
Your assets are held securely at Charles Schwab or TD Ameritrade.

TRANSPARENCY AT ITS BEST
Our state-of-the-art technology and reporting promises you a clear view of your portfolio.
THE BUSY PROFESSIONAL
Pre-retirement, seeking a portfolio and flexible investment options that provide dividends now and in the future.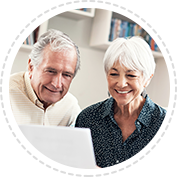 RETIRED OR NEARING RETIREMENT
Looking for a financial plan that will allow them to live off investments.
FINANCIAL TRANSITION
Seeking help with investing a lump sum received from settlement, business sale or inheritance.